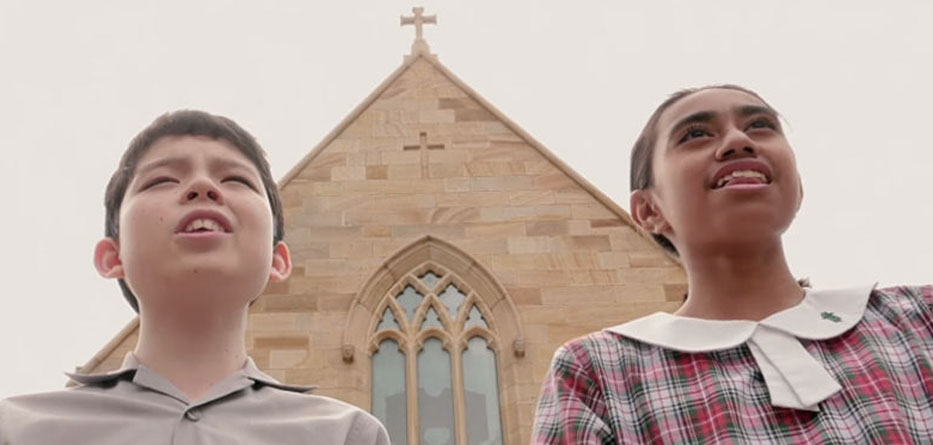 Photo Credit: National Catholic Education Commission
Students raise their voices to celebrate the bicentenary of Catholic education in Australia
Catholic students from across the country have joined together in a video performance of the national song 'Faith in the Future', to celebrate 200 years of Catholic education in Australia, which marks the anniversary of the first official Catholic school opened in Parramatta in October 1820.
The 'Faith in the Future Australian Catholic Schools Version' features 370 students from 29 Catholic schools across Australia including remote, regional and rural communities such as: Our Lady Sacred Heart School Waiben (Thursday Island), St John's Catholic School Richmond in Tasmania, Sacred Heart College Sorrento in Western Australia, and Our Lady of the Sacred Heart Catholic College Alice Springs in the Northern Territory.
"Our Lady of the Sacred Heart Thursday Island was delighted to exhibit the rich colour and culture of northern Australia as part of the video," said assistant principal David Graham.
"It was great seeing the wider Catholic community coming together in unity to celebrate 200 years of Catholic education and I was honoured to be a part of such a big event," said Year 12 Parramatta Marist High School student Jimmy Geagea.
"As the oldest Catholic School in Tasmania, St John's Catholic School wanted to share our joy through AUSLAN, knowing that to sing and express words enables students to fully engage," said principal Megan Richardson.
St Patrick's Primary and Parramatta Marist schools in the Diocese of Parramatta, who both have linkages to the first Catholic school opened on Hunter St Parramatta, participated in the video, as well as Mary MacKillop Memorial School Penola in South Australia, situated next to the schoolhouse that Australia's first saint Mary MacKillop founded.
National Catholic Education executive director Jacinta Collins said the bicentenary is an opportunity to celebrate the 1,755 Catholic school communities across the country.
"The students' joyful performance of the national song is a significant contribution to our celebrations," Ms Collins said.
"The video highlights the diversity and breath of Catholic school communities across Australia and is an important opportunity to celebrate our students' gifts and talents.
"The scale of Catholic education in Australia is unique in the world, serving over 777,000 students and employing over 100,000 staff," Ms Collins said.
The national song was composed by Fr Rob Galea, who currently serves in Sandhurst Diocese. He was featured in the video with students from Notre Dame College Shepparton in Victoria.
"The song encapsulates the importance of the 200 years of history, influencing and forming the culture of Australia," Fr Rob said. "200 Years of education is an incredible milestone and blessing."
The 'Faith in the Future Australian Catholic Schools Version' was premiered at the National Mass on 24 May 2021. The Mass was held simultaneously with school representation in most Cathedrals across Australia, as well as a number of individual parishes and schools. Live streaming of some of the Masses was also available to the 1,755 school communities, 777,000+ students and their families, and 100,000+ staff across Australia.
List of schools featured:
Aquinas Catholic College Menai, NSW
Catherine McAuley Westmead, NSW
Galilee Catholic Primary School Bondi, NSW
Marist College Eastwood, NSW
Our Lady of Mt Carmel Catholic Primary Waterloo, NSW
Our Lady of The Sacred Heart College Kensington, NSW
Parramatta Marist High School Westmead, NSW
St Canice's Katoomba, NSW
St Columba's Catholic College Springwood, NSW
St Patrick's Catholic Primary School Sutherland, NSW
St. Patrick's College Sutherland, NSW
St Patrick's Primary Parramatta, NSW
Holy Trinity School Inverell, NSW
Our Lady of the Sacred Heart Catholic College Traeger Choir Alice Springs, NT
Holy Cross Primary School Trinity Park, QLD
Our Lady Sacred Heart Thursday Island, QLD
Ryan Catholic College Townsville, QLD
St Stephen's Catholic College Mareeba, QLD
St Mary's Catholic College Cairns, QLD
Mary Mackillop Memorial School Penola, SA
St John's Catholic School Richmond, TAS
Loyola College Watsonia, VIC
Notre Dame College Shepparton, VIC
St Alipius Parish School Ballarat, VIC
Genazzano FCJ College Kew, VIC
Thomas Carr College Tarneit, VIC
Sacred Heart College Sorrento, WA
Aquinas College Salter Point, WA
Mercy College Perth Koondoola, WA
Watch the 'local' version of the Faith in the Future video with students from the Diocese of Parramatta below.
With thanks to the National Catholic Education Commission.